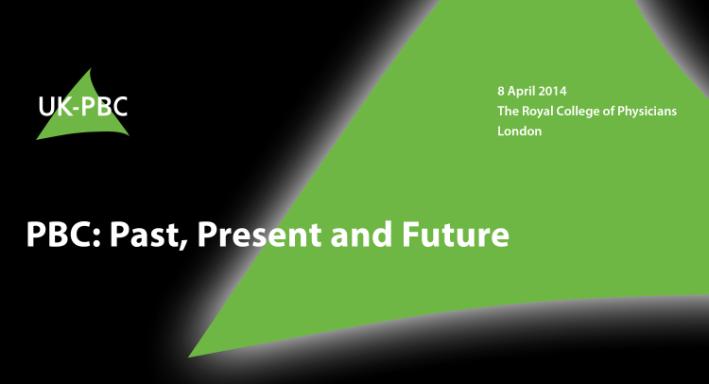 Gwilym Webb, Research Fellow, University of Birmingham, Jessie Dyson, Research Fellow, Newcastle University
As the British weather eased towards mid-spring sun, the first UK-PBC meeting opened at the Royal College of Physicians of London on 8 April 2014. We were blessed with a glorious start to this UK-PBC/Intercept-sponsored meeting located across from Regent's Park.
Timed specifically to take place a day before the European Association for the Study of the Liver (EASL) meetingin the Docklands across town, the event brought together clinicians, basic researchers, nurses, patient groups and students from across the UK, Europe, North America and beyond. The large numbers at this new meeting highlighted a growing interest in Primary Biliary Cirrhosis.
Gideon Hirschfield opened proceedings by emphasising the importance of PBC both as a cause of end-stage liver disease, difficult long-term symptoms and so personal and healthcare cost.
The meeting was dedicated to Professor Andrew Burroughs, from the Sheila Sherlock Liver Centre, who sadly lost his battle with cancer weeks earlier.  Andy had an amazing intellectual capacity as a leading academic hepatologist, and PBC fared well amongst his contributions – for example, he described the intriguing association between PBC and urinary tract infections. He was also a strong advocate of evidence-based hepatology practice, a position shared by many of those present.
Industry interest in PBC is palpable and exciting. In-keeping with this, David Shapiro presented next. David is the CMO Intercept Pharmaceuticals.  As well as speaking on the importance of bringing such novel agents to market, Dr Shapiro warmed the crowd up.  Were it not for this meeting, we would never have known that the two Davids' (Jones and Shapiro) discuss PBC trials over Newcastle ale, close to where PBC has one of its UK homes.
After an introduction by Sir Ian Gilmore (himself a one-time fellow of Alan Hofmann below), David Jones, UK-PBC director, opened the first section of the meeting – PBC Past – with a galloping history of the condition. We were reminded that PBC was first described by Addison and Gull in 1851; their striking image of a fatigued young woman with xanthelasma illustrated PBC well. Addison's childhood links to Newcastle, a major current PBC centre, were underlined too.
The stage was now set for a different but related history: that of bile acid therapeutics. Professor Alan Hofmann, perhaps the father of modern bile acid research, covered decades of advancement in their and their transporters' understanding. We learned of the differences between the bile acids of humans, bears (ursodeoxycholic acid) and geese (chenodeoxycholic acid), the histories of their various syntheses, and were reminded of the importance of linking the basic research with the clinic.
Keith Lindor who was instrumental in the original studies of UDCA in PBC, chaired the PBC Present section of the meeting with an opening reminder of some of the current dilemmas and uncertainties facing those caring for PBC patients – What do we do with those who do not respond to ursodeoxycholic acid? How do we predict whose disease will progress? What do we do about severe symptoms such as itch and fatigue?
An illustration of the advantages provided by multi-centre cohorts was next provided by a pair of presentations from the team at Erasmus Medical Centre: Drs Henk van Buuren and Bettina Hansen.  Henk and Bettina presented on behalf of the Global PBC Study Group or 'Supergroup' as they are often called. This international effort arose through a focus on developing validated surrogate end points for PBC. It had became clear that a more robust large-scale dataset was needed that represented world PBC practice, and many of the conference participants were members of the group that pooled their PBC data together.  The support of Intercept Pharmaceuticals allowed a full time PhD student (Wim Lammers) to collect data from across Europe and North America. The audience learnt how such large cohorts have allowed validation of alkaline phosphatase response's role in predicting death and liver transplantation and also in hepatocellular carcinoma risk.
The meeting then turned to UK-PBC itself: a pan-UK multi-platform research exercise. George Mells from Cambridge spoke on current and projected numbers of patients who had submitted samples for genetic analysis to the project, on efforts to extend recruitment and plans for a genetic analysis of patients based on treatment response and symptoms such as pruritus.  This Work Strand 1 activity of UK-PBC will underpin all the scientific and applied studies across UK-PBC generally.
The UK-PBC consortium aims to provide a platform to address the present unmet needs of patients with PBC, in a co-ordinated and stratified way. UK-PBC's significant backing principally by the Medical Research Council, and supported by NIHR infrastructure resource, gives it a solid foundation to plan for and promote large-scale PBC research over the next few years.
John Kirby and Simon Taylor-Robinson continued by illustrating their respective approaches to addressing mechanisms of ursodeoxycholic acid non-response (Work Strand 2 of UK-PBC). Prof Kirby introduced some of his Newcastle University team's in vitro work whilst Prof Taylor-Robinson, based at Imperial College London, described the application of novel techniques such as proteomics and mass spectroscopy in assessing what might be different about UDCA non-responders and how such biochemical signatures might be found in UK-PBC's every growing repository of patient samples.
Gideon Hirschfield updated attendees on the third of UK-PBC's workstrands, the user interface: how close co-operation with industry will facilitate the more rapid development of appropriate new therapies.  Improved guidance will help to improve the diagnosis and standard care of PBC and the ever-growing UK-PBC website will disseminate such work. Attention was also drawn to the upcoming National Autoimmune Liver Disease Clinical Forum Education Day in Birmingham.
The meeting then paused for the award of four travel bursaries (Drs Laura Griffiths, Vinod Hegade, Andreas Kremer and Gwilym Webb). The meeting was pleased to be able to show support directly some of the future cadre of clinician investigators and scientists in the field. We were also pleased to hear that Palak Trivedi had been awarded the ILC 2014 award for the best oral presentation in clinical science: for work on HCC risk in PBC that emanated from the PBC Supergroup.
PBC Future was opened with Jessie Dyson detailing an exceptionally challenging PBC case history: a young woman with intractable itch, progressive therapy-resistant cholestasis and ultimately liver failure. There were a number of patients and patient advocates at the conference and the discussion was joined by representatives of both the PBC Foundation – Collette Thain MBE and Robert Mitchell-Thain – and LIVErNORTH – Tilly Hale and her daughter. The challenge of uncontrollable disease and symptoms was brought home to all present.
Gideon Hirschfield returned to discuss how individualised and stratified care is of paramount importance in PBC, especially as more patients are diagnosed earlier in their disease courses. Can we identify low risk groups who can be managed through their general practitioners? How quickly can we prognosticate after the initiation of therapy? How can we ensure that as many appropriate non-responders are offered clinical trials as soon as they become available?
Keith Lindor wrapped-up the presentations with his predictions on "where next for large PBC consortia?". Speculations included the development of predictors of bone health and risk of post-transplantation disease – such strategies may build on, and lead to, clinician and patient friendly predictive tools like the UK-PBC varices prediction tool.
A short panel discussion encompassing some of the day's key messages followed and, after a reminder of the Royal College's current exhibition on the perils of the 'bewitching poison' that is alcohol, the meeting finished with dinner in the College library.
We are grateful to Intercept for their support of the event, which helped make it such a success, and also coincided with the exciting results of their Phase 3 trial of obeticholic acid in PBC.