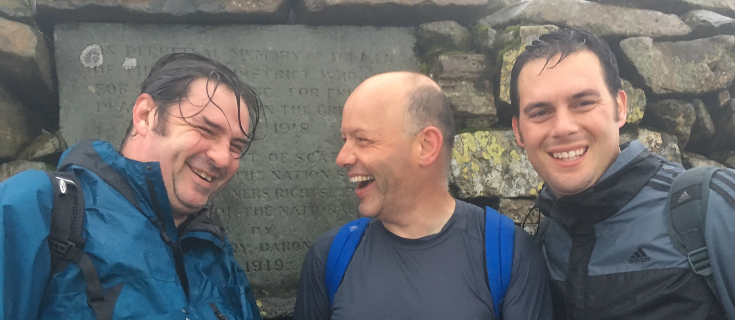 Three intrepid Interceptors joined Robert Mitchell-Thain of the PBC Foundation to climb the three highest mountains in Britain in aid of the charity. Following our attendance at the British Association for the Study of the Liver (BASL), Dimitar Tonev, Andy Bailey and Gordon Lundie joined Robert and headed to Scafell for a late afternoon ascent.
A promising early start soon gave way to terrible weather with winds of 70 miles an hour and almost zero visibility but we struggled on to the top of Scafell. Our descent took longer than expected and we arrived back at base camp for a welcome meal at the local pub at 9pm on Friday evening.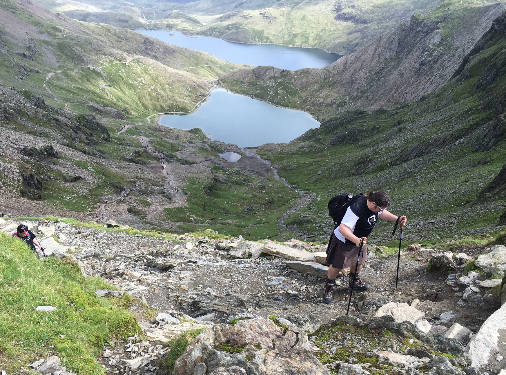 The next day saw us move to Wales to tackle the mighty Snowdon, where we were joined by a patient, Val, and her daughter Dawn. Dawn joined the team and together we began our second ascent.
The hard work of the day before had taken a toll on all of the climbers with Robert continually telling the team that "only one final push" was need to get us focused onto success on the hill. Beautiful weather helped us on our way. The summit was achieved a little more than three hours after we set off and Robert – satisfied with our exploits – looked forward to "The Big Yin" and the conquest of Ben Nevis – only 414 miles driving was in the way…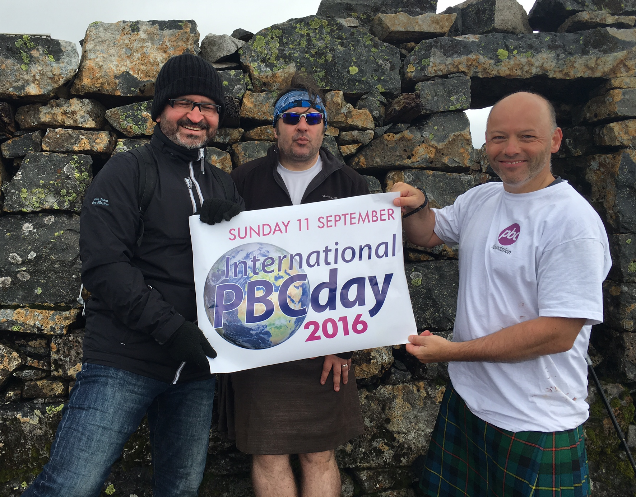 The next morning saw our weather hold and an early start gave us plenty of time to climb the 4,412 feet of the highest mountain in Britain. Robert and Gordon both work their kilts to impress the tourists.
Three and a half hours of solid effort saw the team on the top and a very relaxed Robert reflected on an enjoyable 48 hours of climbing with the words "never again".
We are still raising funds to hit the final target – please follow the link below to help us get there.
https://www.justgiving.com/Gordon-Lundie?utm_source=Sharethis&utm_medium=fundraisingpage&utm_content=Gordon-Lundie&utm_campaign=pfp-email
With thanks from Robert, Gordon, Dimitar and Andy.