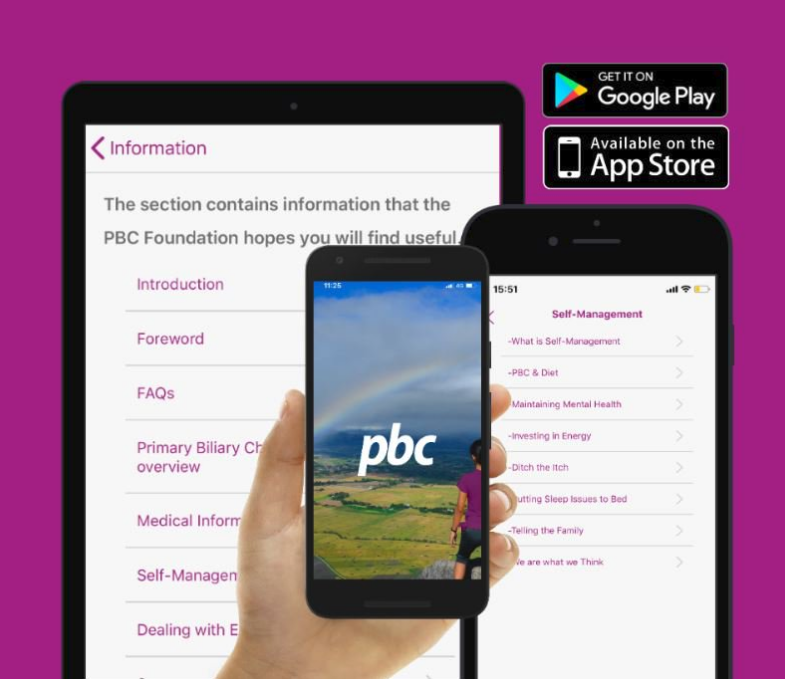 PBC Foundation are pleased to announce the release of our new and improved app, which is available free to download on Apple and Android mobile devices.
Here's a selection of things you can do with the new features:
Record your symptoms on a day-to-day basis and your biochemistry results
Personalise the app to you, your journey and your priorities
Gain full access to important information, The PBC Compendium and EASL Lay guidelines
View the latest information on research, patient surveys and clinical trials
Self-management tools that will help better manage your PBC on a daily basis
As part of a patient community, we can drive forward progress in PBC simply by recording data on the unmet needs we face every day. With you becoming part of our international patient registry, we will be able to directly influence medial research and help pharmaceutical companies discover new treatments to help PBC sufferers.
The tools, publications, and information you record can be shared with your clinician to assist with your ongoing appointments.  Everything you record will be safely stored, anonymised and protected by our digital partner MTC Media.
To download the app, click the link which matches your device:
Apple device: https://itunes.apple.com/us/app/pbc/id1225705494?mt=8
Android device: https://play.google.com/store/apps/details?id=uk.org.pbcfoundation.pbcapp1
Watch our CEO, Collette Thain MBE, introduce the app here: https://youtu.be/DDTe0IoDrVQ
You will need to join us as a registered service user before you can access the app. Please note that once you have downloaded the app and have attempted to sign in with your usual username and password, you will receive a message on screen stating that your password has been expired. A reset code will then be sent to your email address for you to change your password.
To ensure that we deliver the best service possible, we will continue to improve the app over time, so do please provide the PBC Foundation your feedback.